Online Training is included and priced into your initial purchase.  It is highly recommended that you thoroughly complete the training before your first Pipepoxy application.  Our training programs are broken down into two separate packages.
Pipepoxy Application with Leak Detection Training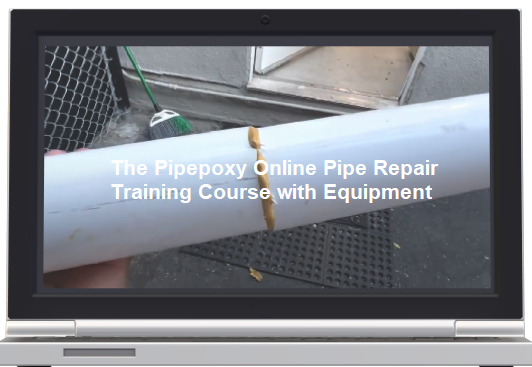 The Pipepoxy virtual training platform provides in-depth look at the Pipepoxy application as it is important that instructions are followed as directed.  The Pipepoxy Repair System is included with all the tools needed to apply Pipepoxy and comes with Accumix for approximately ten pipe repair applications.  In the course you will learn how each component in the kit is used and will also learn how to calculate the correct ratio of Accumix for maximum coverage.  Taking you from assembling your tools to coating the pipe, we cover all aspects of repairing the pipe without invasive measures.
Pipepoxy Application Training and Certification Course Outline
Measuring and Mixing Pipepoxy
How to calculate the correct amount of Accumix
Working temperatures for Pipepoxy
Proper mixing techniques
Equipment Review
Which drum to use
Which size brush to use
Proper brushing for complete coverage
Cleaning techniques and tips
Drying
Applying Pipepoxy Accumix
Proper drying times
Blowing the line dry
After the process
Re-appying Pipepoxy
When it's necessary
Coating a pipe when there is no leak
Pricing
How to sell it
No cutting
No digging
No ugly deck patches – they will never match
The area of repair will actually be stronger than the stand alone pipe
Contracts
Creating your Pipepoxy Application Contract
Sample contract on what Pipepoxy contractors should provide to their customers
Warranty
Marketing
Recommendations on how to market this service locally
Using our Pipepoxy locator
Networking with other pool and leak professionals
Pipepoxy Online Course with Equipment  $9,400.00
This option comes with Pipepoxy Pipe Repair Installation Training with equipment and professional Leak Detection training with the leak detection equipment that LeakTronics founder Darren Merlob is known the world over for providing.
You will learn techniques and methods, shown using LeakTronics leak detection equipment.  Online Training can be applied to employees at your company or can be used to take the next step to stop outsourcing work and instead, get paid to provide professional leak detections AND trenchless pipe repair in-house.  Our virtual training platform and curriculum is all encompassing and remains available for you to reference after you've completed the course.
Online Pipepoxy Application Training with Swimming Pool Leak Detection Training and Certification Course Outline
Introduction to LeakTronics
Walk Thru of the shop-where we make equipment
Quick overview of the Complete Pro Kit
Powerpoint & voiceover of the course walk through
Best Practices
Leak detection introduction
10 commandments of swimming pool leak detection
Taking phone calls and asking the right questions
Your new equipment vs others gear
Turning leak detection into paid repair work
The Pro Complete Leak Detection Kit
Total walk-thru of your Pro Complete Kit
Explanation of Components
Effective methods and use of your gear
How each piece excels in the field
In the Shell
Safety. Best practices for the best results
How to find leaks in the shell
Diving and Dye Testing when necessary
Static Pipe Testing
Dealing with Structural cracks and making permanent repairs
Plumbing
Pool Plumbing, "What makes it tick?"
How do pool plumbing systems work
Locating leaks within lines
Proper use of the F.L.A.S.H. System
Using camera technology to aid in leak detection
Case Studies
Cases, descriptions, and media
Examples of how to handle specific situations you may run into
Photos from our past trainees
Explanation of our technical support
Business & Marketing
Building a Website
Blogging and SEO
Setting up a Business Facebook, Yelp, and other helpful profiles
Using Analytics tools
Advertising
Networking
Pipepoxy Application Training with Equipment AND Leak Detection Training with Equipment   $14,900.00